Year-In-Review Zine
The fine folks from the teen department at Jones Library in Amherst (our friends and partners in zine) have made this incredible guide and zine prompt devoted to a moment of reflection during a very strange and dark year. Inspired by our guest star Malaka Gharib's own year-in-review zine(!) Once you're done, Lilly can make copies of your YIR zine — send it to abaitz@cwmars.org!
How-to-Make-a-Personal-_Year-in-Review_-mini-zine

Dreaming the Future Zine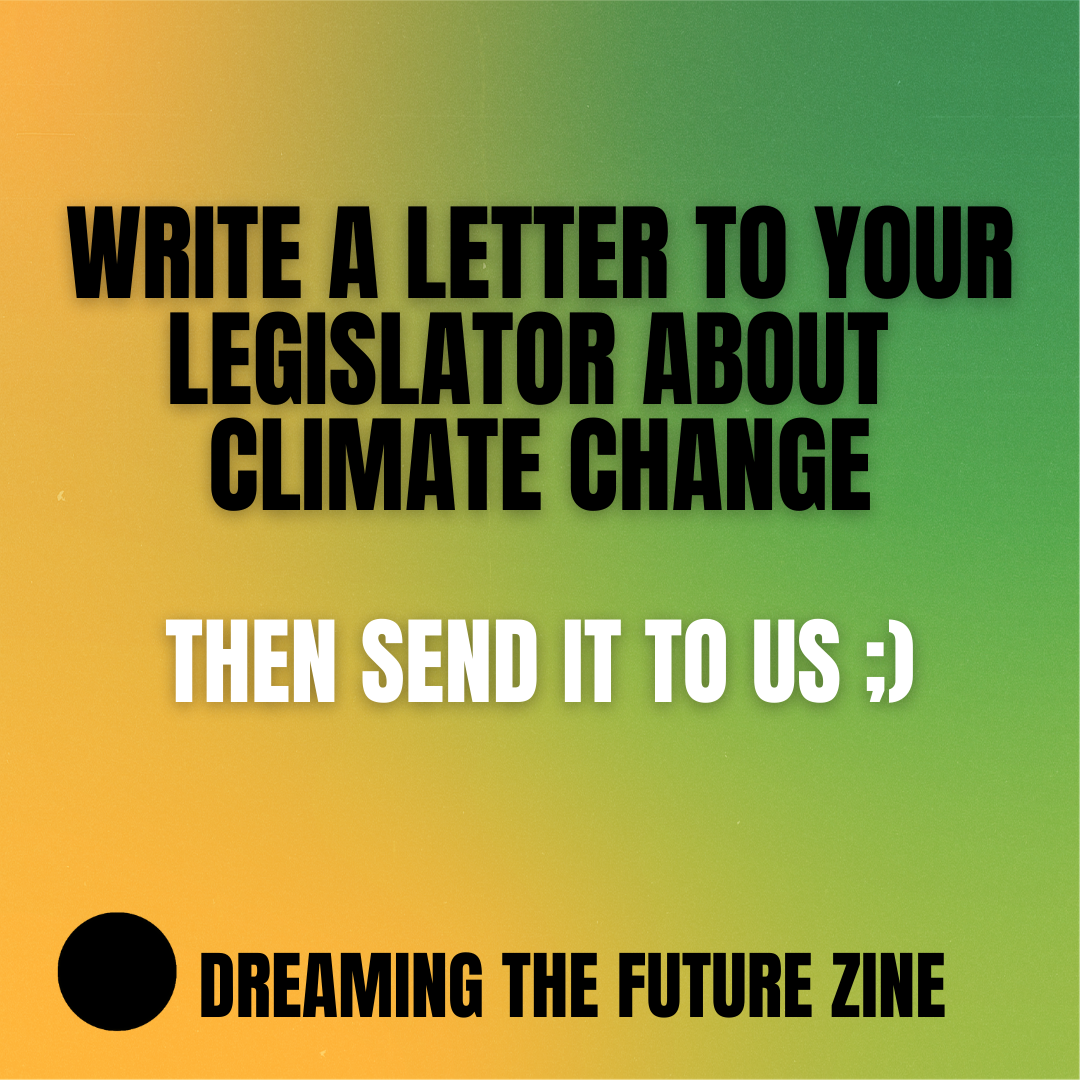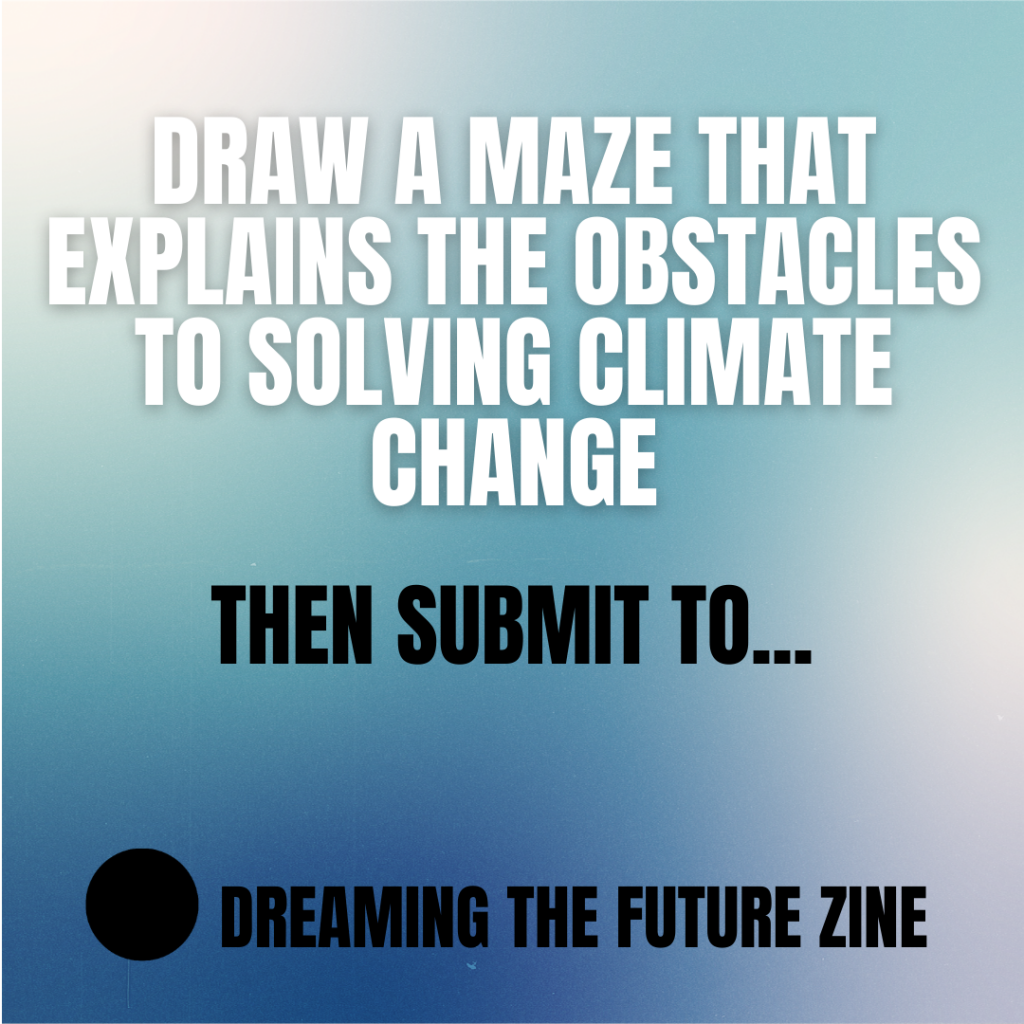 What does climate justice mean to you? Lilly (and Jones and Forbes!) want to hear all about it. Learn more about this awesome collaborative zine here. Submissions due January 7th!
Virtual Zine Club
Join patrons (and staff!) from Forbes and Jones at Virtual Zine Club! We will be meeting over Zoom every second and fourth Wednesdays from 7pm until 9pm. Click here [Zoom link!] when the time comes.
Need more sources for public domain imagery?
One-Page Zine Challenge:
Lilly challenges you, dear young adult patron, to make a zine. You don't need anything special! All you need is: one sheet of paper and any materials you can find around the house (think: markers, pens, magazines, construction paper).
Hold up, what's a zine? First up, the word rhymes with "teen." Think of a zine as a DIY magazine/comic/graphic novel, depending on content. A zine is a physical paper-based object that allows a zine-maker to express themselves, without the need to go through a publisher.
This one-sheet zine is a fun way to make both a zine and a poster. You don't need any type of binding materials (like staples or string), and you don't have to make any cuts — this design keeps both the poster and the zine intact! One page of your sheet will be all zine content, while the opposite will be a poster.
Here is the layout of the zine page:
One-Page-Zine-page-one

This is how your content will look when your zine is completely unfolded. In order to get to the folded format, fold your sheet of paper once width-wise (aka, the short way) and then fold again length wise (while paper is still folded). Your folds will make the paper resemble a (very short) book.
Don't let the interior of the zine be empty! You can use this side as a poster!
One-Page-Zine-page-two

Once you've finished your zine, you have options. You can call it a day with the one copy. Or, if you have a printer with a scanner, you can scan each page of the zine to make more copies to hand out to friends (and to Lilly!) If you plan to make more copies, make sure you print double sized! Also, throughout the summer, Lilly is offering free printing up to 50 pages. Click here to upload your zine and get free print-outs.
We want to see what you come up with! You can make it about anything you want! Need inspiration? Make the zine about your family or your pet, write about your favorite TV show or music group. Write about how quarantine makes you feel. Write about your summer reading list. Make your zine about how you want the world to be after the George Floyd protests of this summer. Your zine can be about anything!
If you'd like to share your zine with Lilly, send an email to the YA Librarian at ahulsey@cwmars.org. Lilly hopes to collect patron zines and establish a Teen Zine Collection once patrons are able to visit the library in-person again. Save us a copy if you'd like to take part!
Need Inspo? See YZINE
Lilly has created a new section in the library, dedicated to materials that cover zines, book making, collaging and more. Called YZINE, this will make sense to patrons once they're allowed back in the building. For now, though, know that you can request these books and check them out as you can any other books.
Follow this link to see and request the books in the new collection!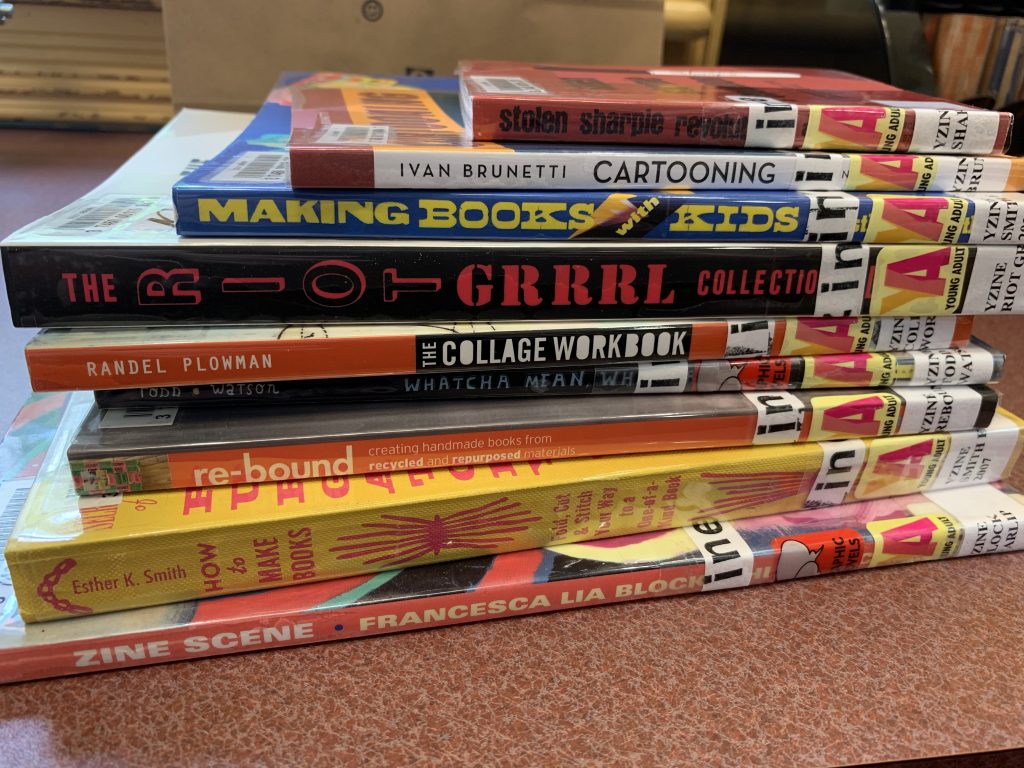 If you have any requests for books (or other materials) about making books or similar types of art, send an email to ahulsey@cwmars.org and Aaron will do his best to purchase it for the collection!