A summer reading club at Lilly Library full of reading, family entertainment, crafts, & fun!!!
Registration begins Monday, June 19. Come in and sign up! But be quick, some programs fill up fast!
Reading begins Monday, June 26 and continues through Thursday, July 27.
For ages birth through 11. Registration required for all events.
---
How Summer Reading Club Works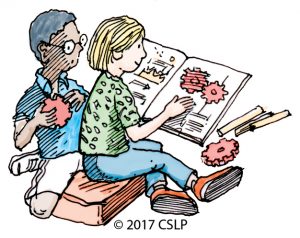 Pick up a reading packet at the library and  read for 15 minutes a day (or more), or have a  grown-up read to you. Each circle on your reading log is equal to 1 hour of reading.
For each hour of reading, or 1 circle filled in with a sticker, you earn 1 ticket towards a drawing for a summer reading prize pack.  If you read 2 hours you earn 2 tickets, etc. The more you read, the greater your chances for winning a summer reading prize pack.
EARN EXTRA TICKETS
By simply answering weekly trivia questions.
---
IMPORTANT!
READING LOGS MUST BE TURNED IN BY THURSDAY, JULY 27 OR YOU WILL NOT BE ELIGIBLE FOR THE DRAWING OF A  PRIZE PACK
---
Build a Better World
Registration is required for all events
On-going weekly events
Mother Goose Storytime
Monday, June 26 & July 3, 10, 17, 24 10:30
Children age birth to 5 will have a great time at Mother Goose Storytime. Full of song, movement, fingerplays, puppets and books, this storytime is always a hit with our youngest patrons!
Preschool Storytime
Thursday, June 29 & July 6, 13, 20 & 27 10:30
Children age 2 1/2 & up are invited to join Miss Kim for a series of summer storytimes & crafts.
(Younger siblings are invited to attend, but no craft will be available for them.)
Lego Club
Thursday, June 29 & July 6, 13, 20 & 27 1:00
Children age 6 & up
The name of this club explains it all!!
Pint-sized Performance Series
This series of events is especially for Lilly Library's smallest patrons, who may not be able to make it to our
Family Entertainment Series.
Bigger patrons are invited too, unless otherwise noted!
Sing to your Baby
Tuesday, July 11 10:30
The melodious, sweet sounding voice and ukulele playing of Julie Stepanek is a sound to behold. You don't want to miss this!
Magician Ed Popielarczyk
Tuesday, July 18 10:30
Back by popular demand, comic magician extraordinaire "Ed Pop" will be here to dazzle us with amazing feats of wizardry! This event is sure to bewitch you! Suitable for ALL ages!!
Minstrel Storyteller Mary Jo Maichack
Tuesday, July 25 10:30
Mary Jo Maichack will be on hand today as Mother Goose in Person! This interactive family program is recommended for children ages 5 and under. This is sure to be delightful show of songs, movement, small puppets and rhymes celebrating the classic nursery rhymes in a participatory, gentle style.
---
FAMILY ENTERTAINMENT SERIES
June 27 & July 6, 11, 13, 18 & 27
These family friendly programs are suitable for ALL ages.
Registration is required for all events.
PLEASE NOTE THAT DAYS & VENUES VARY!!
Concert with Mister G
Tuesday, June 27 6:00
VENUE: Florence VFW
Yup…you read right….a summer reading kickoff concert with Latin GRAMMY Award winner, Mister G!
A superstar in the children's music world Mister G tours internationally, headlining major venues such as Austin City Limits, New Orleans Jazz Festival, Central Park Summer Stage, Getty Museum (Los Angeles), Chicago Botanic Garden, The National Zoo (Washington, DC), The Hard Rock Cafe (Philadelphia), and Parque Chapultepec (Mexico City).
Be sure to be there for this FREE concert!!!
Dazzle Dogs with Caryn Tindal
Thursday, July 6 6:00
VENUE: Lilly Library
Sit, fetch, & roll over? You ain't seen nothing yet!
Dazzle Dogs is a unique & talented group of corgis who will delight their audience with tricks, agility obstacles, & dance to
choreographed musical routines!
Dazzle Dogs have appeared on Animal Planet's Dogs 101 TV show!
Be sure to arrive early. Animal programs fill up fast!
Mike the Bubble Man
Tuesday, July 11 6:00
VENUE: Florence Civic Center
Mike the Bubble Man will bring magic & science to the stage with this interactive show about BUBBLES! Through music, choreography, comedy, & bubbles of all shapes & sizes the audience will learn about chemistry. And perhaps you will have the chance to see the world from INSIDE a bubble!!
Teaching Creatures with Rae Griffiths
Thursday, July 13 6:00
VENUE: Lilly Library
Join your friends in learning about animal defenses. Rae will bring rabbits, a hedgehog, tree frogs & a leopard gecko so that you can take a closer look at animals that have evolved unique adaptations for defending themselves against predators.
Be sure to arrive early. Live animal programs fill up fast!
Pinto Bella Hoops
Tuesday, July 18 6:00
VENUE: Florence Civic Center
Bring your friends & family to a Pinto Bella Hula Hoops class tonight! You will learn about hula hoops, the history of the hula hoop, & after brief instruction, you will get to try hula hooping on your own! At the end of the class there will be a hula hoop demonstration that is sure to astonish you!
Minecraft Madness with Jungle Jim
Thursday, July 27 6:00
VENUE: Lilly Library
Combining balloon artistry, magic, comedy & improv, this action-packed performance is a Minecraft fan's dream! Over a dozen volunteers will join Jungle Jim on stage for activities!
Best suited for ages 3-10.
---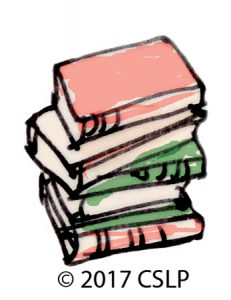 A BIG  thank you to all who helped make
Build a Better World! a success!
The Kenneth Parent Memorial Fund,
The Massachusetts Board of Library
Commissioners, Massachusetts Library System, Friends of Lilly Library, Cup & Top Café, Look Park, Florence Diner, On Point Salon, Northampton Recreation Department, & to all the Lilly Library patrons and families who donated supplies for the summer craft activities.
Thank you for your continued support.
I hope you've enjoyed all of the events.
Keep reading & we'll see you soon!
Miss Kim, Children's Librarian